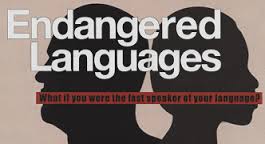 A recent study by Dr. Christopher Moseley of UCL School of Slavonic Languages and Eastern European Studies, based on the data from the UNESCO Languages in Danger project initiated  in 1993, found that there are 33 languages under threat of extinction with four on the list being spoken in Britain.[hr-line][/hr-line] Isle of Man's Manx language and Cornish have been identified as 'critically endangered' while Jersey French and Guernsey French are considered 'severely endangered.' The last first-language speaker of Manx died in 1974, but the study's author, Dr. Moseley, believes that through education and 'an increased move toward regional identity' both Manx and Cornish can be revived.
There are approximately 1,000 native speakers of Jersey French left, and activists are looking at various ways in which to promote the language and thus prevent it from becoming obsolete. Tony Scott Warren, the Jersey French language officer, explains: "It is a worry. We're making efforts to educate as many people as possible. It's not surprising we're on the list. We're looking to develop the range of what we're doing to get more people involved."
In a bid to save the languages most at risk, a travel website, GoEuro, is collaborating with Dr Moseley on a project to create a map which will show places in Europe where the critically endangered languages are spoken and will encourage tourists to visit those areas. The so-called 'linguistic tourism' is hoped to inspire interest amongst foreign visitors in the languages that are close to extinction and visitors will be given an opportunity to contribute to a very worthwhile cause. Naren  Shaam, chief executive of GoEuro, explains how this 'ethical tourism' will help the endangered languages by "allowing people to choose to directly benefit regions in which centuries –old languages are on the cusp of extinction".
According to the study, by the end of the century over half of the languages across the world will become extinct, whilst out of the 24 endangered languages in Europe, Livonian which is spoken in Latvia is the most critical as there are only 40–50 second-language speakers. Some other languages on the list of the most critically and severely endangered after Livonian are, Karaim (Ukraine), Ter Saami (Russia), Corfiot Italkian (Greece) and Ume Saami (Sweden). These first five languages are spoken by 6–10 people in each respective country, highlighting the fact that more needs to be done in order to preserve these languages to pass them on to future generations.
The full list of endangered languages is as follows:
Livonian (Latvia)
Karaim (Ukraine)
Ter Saami (Russia)
Corlot Itakian (Greece)
Ume Saami (Sweden)
Pite Saami (Sweden)
Vote (Russia)
Bulgarian Gagauz (Bulgaria)
Toitschu (Italy)
Tsakonian (Greece)
Capadocian (Greece)
Skolt Saami (Finland)
Istro Romanian (Croatia)
Gardiol (Italy)
Inari Saami (Finland)
Istriot (Croatia)
South Saami (Sweden)
Arbanasi (Croatia)
Cornish (UK)
Kildin Saami (Russia)
Satarlandic (Germany)
Guernsey French (UK)
Manx (Isle of Man)