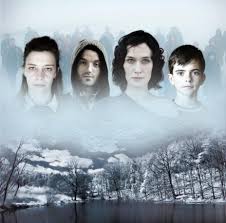 Drama wedi ei osod mewn tref Alpaidd yw The Returned (Les Revenants yn Ffrangeg), le mae'r meirw wedi dechrau dychwelyd i dir y rhai byw, heb iddynt hyd yn oed sylweddoli eu bod wedi marw. Mae'r ddrama oruwchnaturiol hon wedi bod yn hynod o boblogaidd gyda'r gynulleidfa Brydeinig, gyda chyfartaledd o 1.5 miliwn gwyliwr, ac mae nifer o glybiau, blogiau a fforymau wedi cael eu creu gan wylwyr sy'n awyddus i drafod y dirgelion – Pam mae'r bobl yma yn dychwelyd? Pwy sy'n fyw a phwy sy'n farw? Beth yw pwysigrwydd y gronfa ddŵr?  Bydd pennod olaf y gyfres yn ateb rhai o'r cwestiynau hyn, ond, newyddion da i'r rhai sydd wedi colli'r gyfres gyntaf, maent wrthi yn cynllunio ail gyfres.
I'ch paratoi, dyma restr fer o eirfa allweddol ar gyfer y rhaglen: le zombie, le fantôme, l'ange, le barrage, le Lake Pub, les jumelles (efeilliaid), le tueur ên série (llofrudd cyfresol) le suicide, l'accident, la mort, la cicatrice (craith), le revenant (dychweledig).
Pan oeddwn i'n ifanc, roedd yr unig raglenni tramor ar y teledu yn dod o America ac yn Saesneg. Os oeddech chi am weld ffilm Ffrengig, roedd rhaid aros ar ddihun tan oriau mân y bore. Yn gyffredinol roedd cred nad oedd gwylwyr Prydeinig yn hoffi is-deitlau, a gydag atgasedd tuag at drosleisio – yn wahanol i eraill ar draws y byd . Dechreuodd pethau newid gyda phoblogrwydd dramâu trosedd o dramor, o'r rhaglen Ffrengig Spiral, i'r un Eidaleg Inspector Montalbano, i'r rhai Scandinafaidd The Killing, Wallander a The Bridge. Cafodd 'rhain eu dangos ar BBC4. The Returned yw'r sioe gyntaf i gael ei ddangos ar brif sianel, Channel 4, am 9 o'r gloch nos Sul. Gyda stori afaelgar ac ymyriadau gwych, yn cynnwys trac sain Mogwai, os oedd yna raglen a allai newid sefyllfa teledu iaith tramor ym Mhrydain, dyma'r un. Gobeithio bydd mwy o raglenni teledu wedi'u his-deitlo ar y prif sianelu yn y dyfodol!