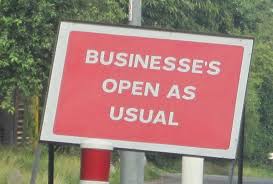 When a company or an individual is in the limelight one would expect them, or at least their marketing agency, to advise against using poor grammar. Sadly, this is clearly not the case, as well-known institutions such as the NHS and Tesco have been named amongst the worst offenders for using poor grammar.
The Idler Academy, which is known to offer a wide range of courses from science to creative writing and beyond, recently released the shortlist for the 2014 Bad Grammar Awards. Not an accolade anyone in the public eye would seek out, as the shortlist is described as being a list of institutions and individuals, who presumably should know better, who regularly use the English language incorrectly.
At the very top of the list, the grocery giant Tesco is blasted for sins on packaging wording, for example describing a fruit drink as "most tastiest" and foregoing "fewer" in favour of "less" on tissue packaging in the slogan "Same Luxury. Less Lorries". Those who value the English language will no doubt find these publicly made language errors quite disturbing.
The NHS has been pulled up several times for incorrect use of the apostrophe on appointment letters and on directions around facilities: "The Suite's are clearly signposted".
The British Army Careers Office has also made it onto the shortlist for their use of "you're" instead of "your" on a sign and the MP Tristan Hunt was called out in the House of Commons for his use of bad grammar, earning him a position on the shameful list. Hunt's crime against grammar, which was highlighted by none other than Michael Gove, Secretary of State for Education, centred around "tautology and other errors", for example the use of "ongoing continuing professional development".
Perhaps the most depressing entry on the shortlist is that of our own Great British primary schools, whose place was secured for "many and various" grammar errors which include the following example, where "are" is used instead of "our" on a playground sign that reads: "We all wash are hands after playing in the sandpits".
Possibly the most unfortunate punctuation mistake, however, is in the marketing information for a cafe chain: "Great taste on it's way". The irony is that the cafe chain is called Apostrophe!