Merry Christmas! Kala Christouyenna, Hyvaa joulua, Sretan Bozic, Feliz Navidad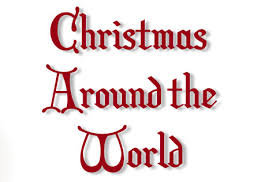 As the festive season approaches, many of us will be getting ready to celebrate Christmas according to their cultural tradition. It is always interesting to observe how people in different countries mark this religious holiday and those lucky enough to be abroad during Christmas period can witness the celebrations at first hand.
The Greeks, for example, celebrate Christmas Day on 7 January following the Gregorian calendar. Traditionally on Christmas Eve, children go out into the streets to sing Christmas carols or 'kalanda' as they are called in Greek and a bread called Christopsomo is baked and served to the family members on Christmas Day. It is not customary to exchange presents for Christmas, instead families usually attend a church service in the morning and then enjoy a roast dinner of either lamb or pork.
Children in Finland are somewhat at an advantage when it comes to receiving their Christmas presents as they are the closest in proximity to Santa who is believed to live on the mountain of Korvatunturi in the northern part of Finland known as Lapland. On Christmas Eve, Finnish families visit the graves of their loved ones as this is the time for remembering those who have passed away and who will not be present during the celebrations. In the town of Turku, the former capital of Finland, a ceremony is held announcing the beginning of 'Christmas Peace' which starts on Christmas Eve and lasts for twenty days. During this time, residents of Finland are encouraged not to get involved in 'rowdy and noisy behaviour.' Children receive their presents from Santa on Christmas Eve whilst on Christmas Day families usually attend a morning church service and spend the rest of the day at home.
If you happen to be in Croatia during the Christmas holidays, you will hear local people wishing each other Sretno Badnje Vece, or Happy Christmas Eve, when many Croatians attend a midnight mass at their local church. Christmas Eve dinner is most often a fish dish as it is a day of fasting whilst on Christmas Day menus vary according to the various regions within the country. In northern Croatia, turkey would often be served for lunch on Christmas Day whilst in the southern region of Dalmatia, many would be eating cured ham and a variety of local cheeses. Presents are exchanged on the day but some also give each other gifts on New Year's Eve.
Spanish Christmas celebrations or Navidades start on the 24th of December and last until the 6 January. On Christmas Eve or Nochebuena, Spanish families get together and enjoy a nice meal after which they will usually attend a midnight church service called the Misa del Gallo. Presents are opened on Christmas Eve and most Spaniards spend Christmas Day at home with their families. On 5 January many will be buying a Roscón de Reyes (literally Kings' Ring) , a ring-shaped pastry cake which they will enjoy for breakfast the following day.
How do you celebrate Christmas in your country?