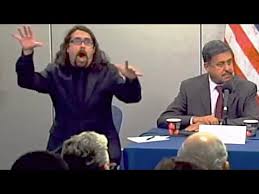 When interpreters and translators are used for public events like court sessions or press conferences, they are usually unobtrusive; a backdrop to the main event. Not so, however, at a recent press conference in New York City where the interpreter on duty jived, swayed and gave an expressive commentary to the event – the city's first Ebola case.
City officials were providing an update to New Yorkers in the wake of news that a doctor, Dr. Craig Spencer, had tested positive for Ebola after a medical trip to Guinea. However, the main event was soon pushed aside as the supporting act took centre stage.
The sign language interpreter, Jonathan Lamberton, utilised a range of dramatic facial expressions and gestures reminiscent of a pantomime villain in order to broadcast feelings of concern, calm, amazement and anxiety. Twitter users quickly caught on to the animated performance of the interpreter, describing him as 'hilarious' and 'captivating'. The hashtag #EbolaMan was quickly seized upon as the event started trending. But was the sign language interpreter being over the top for no reason?
Lamberton is a Certified Deaf Interpreter (CDI), an American accreditation that tests proficiency in communication and interpreting, but also incorporates other tools designed to communicate information effectively, such as mime, props and gestures, as seen at the recent press conference. As the story gained momentum on social media, the interpreter explained that he was expressive when signing as a way to get the meaning of the topic across. In this case, the mayor and health officials were explaining what Ebola was, but also asking citizens to remain calm. The interpreter said that part of his role was to convey this message.
At the news event, Lamberton was seated next to New York Hospital Chief, Dr. Ram Raju and New York Mayor, Bill de Blasio and was part of a two-person team with a partner sitting in the front row facing the speakers. This was required at this particular press conference because Lamberton is deaf while his partner was a hearing interpreter.
This is not the first time an interpreter has stolen the limelight. Last year, a man produced an array of nonsensical gestures dressed up as sign language at the funeral of Nelson Mandela, attended by around 95,000 people and watched by millions around the world. At least the interpreter at the New York City press conference was genuine!